Breast Cancer Pathways Project
Including Free Download of the Latest Worksheet - Released in June 2021 and updated on a regular basis

Collaboration, community & care.
In Loving Memory of Lauren Gue
In loving memory of Lauren Gue, whose research on breast cancer phenotypes and spreadsheet design inspired our ongoing work, and Sarah Hughes, who made valuable contributions related to TNBC.
Our creation of these freely shared breast cancer pathway worksheets honors the memory of Lauren, Sarah, and all of our sisters who have passed. These efforts represent our compassion and care for the breast cancer healing community.
The Breast Cancer Pathways worksheet project began in early 2019 as a collaboration between two stage IV breast cancer thrivers,
Maria Wessling Bachteal
and
Abbey Mitchell
. With help from members and friends of our Facebook group, we have dedicated countless hours searching for and organizing breast-cancer-specific laboratory and clinical research that is accessible in the public domain.
Breast Cancer Pathways Project
Facebook Group
JOIN or LOGIN
1 minute video preview of the Breast Cancer Pathways Worksheet page titled: Manipulate Signalling.
"Cancer doesn't happen in a vacuum. It's just as important to consider the environment in which your cancer is growing, so we encourage exploration into areas of your personal terrain that need attention, especially the emotional and environmental contributors"
Breast Cancer Project Good Sense & Safety First Guidelines
The information presented in the worksheets should not be taken as medical advice. Please consult a medical practitioner before adding any drug or supplement to your protocol, and seek out guidance from an integrative cancer practitioner who can guide you in your protocol choices.
We acknowledge our teachers.
The best selling book "How to Starve Cancer" inspired us to take the many steps needed to better understand the biological mechanisms underlying our breast cancer diagnoses.
Visit Jane McLelland's website to find her online learning support groups and online courses.
Our breast cancer pathways are based on the ground-breaking work of Douglas Hanahan, PhD and Robert A. Weinburg, PhD, whose landmark 2000 paper and subsequent 2011 update outlined the Hallmarks of Cancer, eight biological capabilities acquired during the multi-step development of human tumours as well as introducing other important concepts related to tumour progression. Hanahan further expanded this concept in his 2014 paper "Rethinking the War on Cancer".
You'll find the auto-fill format and many information changes from previous versions. We have broadened the scope to include concepts from the original Hallmarks of Cancer paper and its 2011 update.
We encourage users to seek out help from an integrative cancer practitioner to put the research into the context of clinical experience and help you create the best protocol for your individual situation.
The worksheet should not be viewed as a prescriptive "laundry list" of things to take. Instead, we hope this effort will lead you and your integrative practitioner to further consider the impacts of your protocol and explore the evidence available on the PubMed database.
By clicking this button to access the Worksheet download, I acknowledge that I have read and understand the "Breast Cancer Project Good Sense & Safety First Guidelines" above.
Click to Download file.
How many drugs, herbs, and/or nutrients should you take for each category?
The information provided here is not meant to be prescriptive but rather serve as a guide to help you and your integrative cancer practitioner work within the context of your standard-of-care oncology protocol. The worksheet summarizes research available in the public database PubMed. The strength of the evidence varies for each pathway and substance. In many cases, only in vitro (cells studied in the lab) evidence is available and the effects in humans are unknown.
We encourage users to seek out help from an integrative cancer practitioner to put the research into the context of clinical experience and help you create the best protocol for your individual situation.
Some herbs or nutrients may affect the bioavailability or side effects of certain drugs because of P450 enzyme interactions. This should be discussed with your integrative cancer practitioner.
Has this information been validated?
Most of the information summarized in the worksheet comes from pre-clinical research, meaning not verified in humans.
Because of the lack of financial incentives, human research into the off-label drugs and supplements presented here is rare.
In practice, integrative cancer practitioners use off-label drugs, supplements, and therapies within their comprehensive protocols, in a clinical setting, to improve the effectiveness of conventional treatments.
The practitioners and researchers whose books, presentations, and research articles support the use of these concepts in clinical practice include, but are not limited to, the following (in no particular order) :
Neil McKinney, ND, Keith Block, MD, Daniel Thomas, M.D, Brian Lawenda, MD, Donnie Yance, MH, CN, RH (AHG), Lise Alschuler, ND, FABNO, Dwight McKee, MD, Gurdev Parmar, ND, FABNO, Jason Miller, DACM, LAc, Nalini Chilkov, OMD, LAc, Tina Kaczor, ND, FABNO, Kristin Wohlschlagel RN, Walter Longo, PhD, Dominic D'Agostino, PhD, Daniel Thomas, DO, and Dr Nasha Winters, FABNO
1. How do I download the Breast Cancer Pathways Worksheet to my Computer?
A computer is recommended. We can't guarantee the outcome of following these instructions on a smart phone or tablet.
IMPORTANT: Please Delete Previous Versions...
BEFORE DOWNLOADING, PLEASE DELETE ANY EXISTING VERSIONS OF THE WORKSHEETS (OR PREVIOUSLY NAMED FAST SHEETS) AND REPLACE WITH THIS UPDATED VERSION.
After acknowledging that you have read and understand the "Breast Cancer Project Good Sense & Safety First Guidelines" above, and only then, downloading the Worksheet....
The Breast Cancer Pathways worksheet will open into a new browser window/tab....
1. You will be brought to a Google sign-in page where you'll be prompted to sign into your account or create a free G-mail account.
2. Open your Google drive (you get one free when you create a free G-mail account.)
3. Make a copy of the Worksheet as you are instructed.
e.g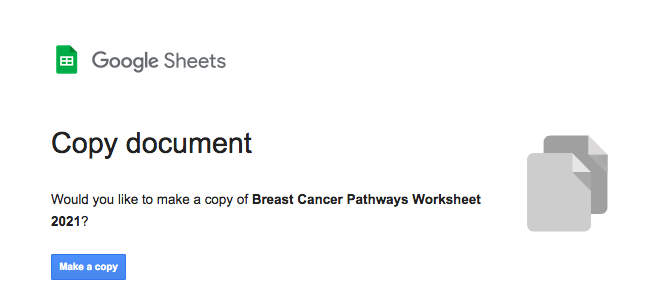 4. Once your copy of the worksheet is open in Google sheets app - Add your name and the date to the title of the worksheet.

e.g delete the words " Copy of" and add your name and note the time period this worksheet will reflect. This title can be changed at any time.
At the bottom of the screen you can see the colored tabs that allow you to navigate your way to each page of the worksheet where you will see your master data menu choices reflected.
2. Take a look around your own personal copy of the worksheet.
This 1 minute (silent) video demonstrates how to navigate the worksheet on a desktop using the app's navigation tools.
TIP: Navigating on a Mobile Device is different
You will notice that the worksheet navigation tabs at the very bottom of your screen will hide once you scroll down the page. Scroll up the page and the navigation menu tabs will re-appear. When all navigation tabs and menus vanish click on the little 'tick' symbol that appears at the very top left corner of the screen to move out of edit mode and back into navigation mode.
Start using your worksheet by first indicating your current choices using the pull-down menu on the page titled "Enter Master Data"
IMPORTANT: Do not edit our text in Column A or in Column B on any sheet as you will break the code that enables the information to populate the entire worksheet.
You can write what you like in all the other columns to the right side of column B.
This is a quick (under 2 minute) video demonstrating what happens when you indicate what you are either YES taking, considering, been suggested, cycling or only having 1 week in 4.
3. Where do I add my Standard of Care (SOC) Choices?
Just below the A-Z list of master data items there are blank spaces for all the other items in your protocol. Unfortunately these additions won't be reflected in the other pages throughout the worksheet. List them here anyway to support your team to see the whole picture.
Be sure to find & bookmark the free worksheet resource titled Typical Clinical Use. The video below will guide you to the inbuilt links that take you to this resource.
5. Sharing your personal worksheet is easy.
Use the SHARE button (top left) to add the email address of your doctor/s or anyone else you want to share your online worksheet with.
This is a quick screen recording to help anyone who has not shared a Google Worksheet before.
We know it's a lot to take in!
Take a little break, pause, relax...
There is no way you need to understand it all, this week or this month, or this year. The information will keep revealing its value to each of us over time. We are all making changes to our protocols over time. Over the years we have found it valuable to be able to go back in time and see what was being taken, when and why. If I update my worksheet with changes to my protocol before creating a copy I will lose this ability to be able to look back and know what I was doing and when. So be sure to make a copy and then update the copy.
TIP: The golden rule is "copy & edit the worksheet name before you update master data"
See the video below to understand how.
How to "copy & edit worksheet name before you update master data"
Make plenty of time and slowly read through the pages of the worksheet. Notice how many links are embedded to support you in learning more about each cancer hallmark and each pathway and how it may apply to your type of breast cancer.
 EFT/tapping can support our capacity to take in what we need to, and let go of what we don't need. Learn more here .
Download each individual page or "sheet" onto your hard drive in Adobe and put in appropriate page breaks before printing.
Do not print directly from a Google drive.
Google has many tutorials online, and many users have posted their own video tutorials about how to work with Google sheets.
Providing Worksheet Feedback.
Feedback regarding the worksheet is most welcome. Click the button below to submit a feedback form.
Breast Cancer Pathways Worksheet Feedback
Google form
Appreciation, Gratitude and Healthy Boundaries.
We offer special thanks to Steve Cossell, Jayde Simpson, Debbie Hayes, Riki Rose, Arpan Talwar, Sally Cusack, Antonia Keiko Anni and Sheena McKinney for their help with the many editing tasks needed to bring this new worksheet to fruition.
Breast Cancer Pathways Research Sharing Community (Facebook)
Please support the development of this project by joining the facebook group and sharing your own research finds in the Breast Cancer Pathways study group with hashtags/post topics that match the worksheet segments/pages.
Healing Cancer Study Support Group (on Facebook)
"A cancer community that is hope focused, science driven."
One of the purposes of this website is to support the Healing Cancer Study Support Facebook group. The aim of the Healing Cancer Study Support Facebook group is to make the task of researching the many topics pertaining to healing cancer easier, faster and friendlier. The A-Z list of conversation facebook group threads and files on this website, links to Facebook threads (topics/discussions) found within the Healing Cancer Study Support Group (private Facebook group, founded by Abbey).
The Facebook Group and in some cases the Blog Articles on this website, will unpack  the same topics, and supplements we have researched for the Breast Cancer Pathways Free to download Worksheet.
Join and participate in these online communities to learn all you can.